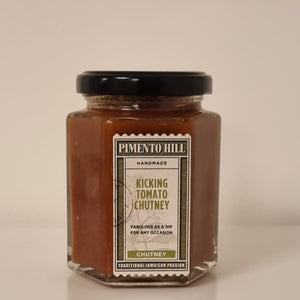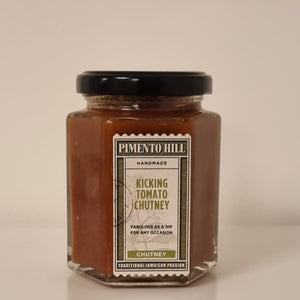 On Sale
Kicking Tomato Chutney (H) 200g
A spicy blend of tomatoes, scotch bonnet peppers and spices, this one-of-a kind chutney with its chunky bits of tangy and tasty tomatoes is perfect for BBQs, pasta dishes, casseroles or sandwiches.
Suitable for vegetarians and vegans.
Handmade in small batches, with all natural ingredients, our Caribbean-inspired products reflect our Jamaican heritage and our love for food.
Ingredients
Tomatoes 60%, sugar, barley malt vinegar, ginger, tomato paste, onions, garlic, currants, thickener (tapioca starch, pectin), salt, black treacle, scotch bonnet chillies 0.5%, mixed spices, acidity regulator (citric acid), dried thyme, vanilla extract.
Allergens are in bold.
Nutritional Information
Typical Value per 100g
Energy 726kJ/171kcal,
Fat 0.5g
of which saturates 0.1g,
Carbohydrate 40g,
of which sugars 39g,
Protein 1.6g,
Salt 0.93g
Refrigerate after opening & consume within 6 weeks